Speaking of flabby arms, they must be many girls' nightmare. Thanks to big arms, every time when I wanna buy a gorgeous sleeves dress or a sexy tank top, I can only get a loosen shirt. Now change this situation by training your arms right now. It is never too late to do so.
Girls are so worried if they exercise for arms, their arms might get way too strong, too masculine. Please don't worry about that, because women are lack of testosterone. It is not that easy to build up loads of muscles like men.
We are here to teach you how to train a slim and toning arms at home easily.
Before we start, let's figure out why these annoying fats gathered on our back parts of arms. The back parts of the arms are called triceps, which are the parts that load up fats easily. During our daily work and life, we basically use our forearm and contracted. Muscles are little, in order to protect bones, our body will try to stack fats on triceps. Moreover, blood circulation to shoulder is quite slow, which means metabolism is slow as well. On the other hand, athletes like swimmers, tennis player, who always use their whole arms, have better arm lines.
Now let's get started!
1. Arm Circle
Photo from Google
Stand shoulder width apart and raise your arms to your shoulder horizontally. Keep your palm facing upwards. Use your shoulder joint to lead the work so that you can train your shoulder as well. This movement can avoid humpback, which is also good for those who always sit in front of the computer.
Keep 30 seconds as a set, two sets for each time.
Strengthen exercise: lift two dumbbell or a weight water bottles to draw circles.
Recommend Active Gear:
High Waist Mesh Spliced Skinny Sport Suit
ONLY $20.00 Was: $37.05
Extra Code: ZAFULBG
2. Knee Push Up
Photo from Google
Put your hands under your chest area, your arms form a 90 degree angle when you are ready. Don't bend your waist and lift your butt nor lower your butt. Try to keep your back and your butt to form a straight line.
When you lower down, make your core forward a little bit, tighten your belly, your elbow should be way behind your wrists, so that you can feel your triceps are firming. If your elbow stretching outwards, you are training ectopectoralis rather than your triceps.
8 push-ups a set, two sets for each time.
Recommend Active Gear:
Mesh Insert Cutout Racerback Sporty Top
On SALE: $17.49 Was: $30.86
Extra Code: ZAFULBG
3. Tricep Dips
Credit to Spotebi.com
You don't need to do this activity in specific gym room but any places with chair, bed or even a wooden case.
Double check for the chair or bed, anything that you are gonna use is stable and secure.
Put your hands on the edge of the bench, make sure they are shoulder width apart and your fingers are pointing forward. Extend your legs and bend your elbows a little to feel the tension on back of the arms. Bend your elbows and lower your body until your elbows are in a 90 degree angle. Be sure your back is straightened and your chest is open. Then straighten your elbows and repeat.
15 repetition a set, two sets for each time.
Recommend Active Gear:
On SALE: $15.99 Was: $27.39
Extra Code: ZAFULBG
4. Bird Dog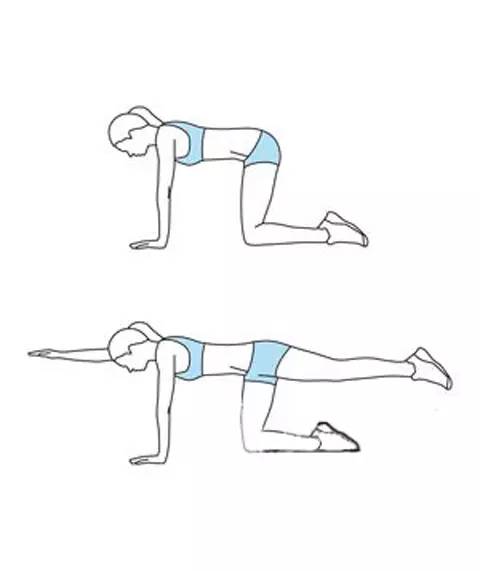 It is a good exercise to train your core power.
Get down on your hands and knees both shoulder-width apart. If you do it in front of a mirror, you can check that your shoulder, back and hip are in the same line. Don't arch your back or move your hip. Stretch out your right arm and your left leg at the same time, make sure they are all in the same horizon. Hold it for 10 seconds. Repeat 5 times. Then switch the other arm and leg. Another 5 times. That's a whole set.
Two sets for each time.
Recommend Active Gear:
Mesh Insert Stretchy Color Block Gym Suit
On SALE: $28.99 Was: $58.62
Extra Code: ZAFULBG
We strongly advise to wear sports bra to do the exercise, so that you can clearly check the muscles in arms: whether they are actually forcing.
Back Lace Up Padded Sporty Bra
On SALE: $15.63 Was: $31.34
Extra Code: ZAFULBG
Recommended for you: