Roses have been one of the most addictive items especially speaking of representing feminine. These years, all the brands have rewound the trends of rose x embroidery. The first symptom dates back to 2017, color rose has sprung up at winter fashion shows: from weak pale pink to sharp Damascus rose red, which made the shows more vivid even in dull winter. Such feminine color straightly pointed out the lure of ladies, and all the audiences seemed to indulge in rose fragrance.
Then here came in 2016, Gucci launched the collection about animals and plants. Director Floria Sigismondi shows his love for the beauty and strong vitality of nature. It is not hard to find embroidery of animals like coral snake and bees in the fashion clothes. Even Dior Homme, has followed the rose trend in men's fashion show! They have presented over 2,000 of pure white roses on the runway show, paired with abstract roses pattern on men's fashion items.
There comes Zaful, 2017: all our love to rose! Rose and embroidery maximize the seductive beauty. Simply wear them, you can show others how feminine you are. No matter where the roses are, they can always spice up your outfit.
Check out how our fashionista demonstrate the rose trends:
Rose Top
This top definitely presents your confidence: with the two roses embroidered at the top, they visually build up your plump upper body. By slightly showing some of your bare skin, I mean, who can resist such sexiness?
Credit @m_tia98
A simple rose shirt might be ordinary, however, Zaful made it as a crop top. now feel free to show your slim waist.
Credit @thewongproject
Shop the Knitting Floral Patched Ribbed Top.
No matter it is off the shoulder, nor criss-cross top, let roses do the talk.
Credit @hayley_bui
Shop the Off Shoulder Applique Top.
Do you think roses can only be paired with sexy little skirts? No! They can be wore with sporty pants. Such crossover reveals peculiar feeling, isn't it?
Credit @butterflygatka
Shop the Knitting Floral Patched Ribbed Top.
Rose Twinset
Black, white and gray have been fashion's tricolors. Unlike dull black and gray, white is more attractive. It can be soft as clouds, cold as snow and pure as maids. That is the reason why many ladies love the white twinset, with only four embellishments: two at the top and two at the bottom. Concise but not simple. You are a 18 year-old teenage girl with them on.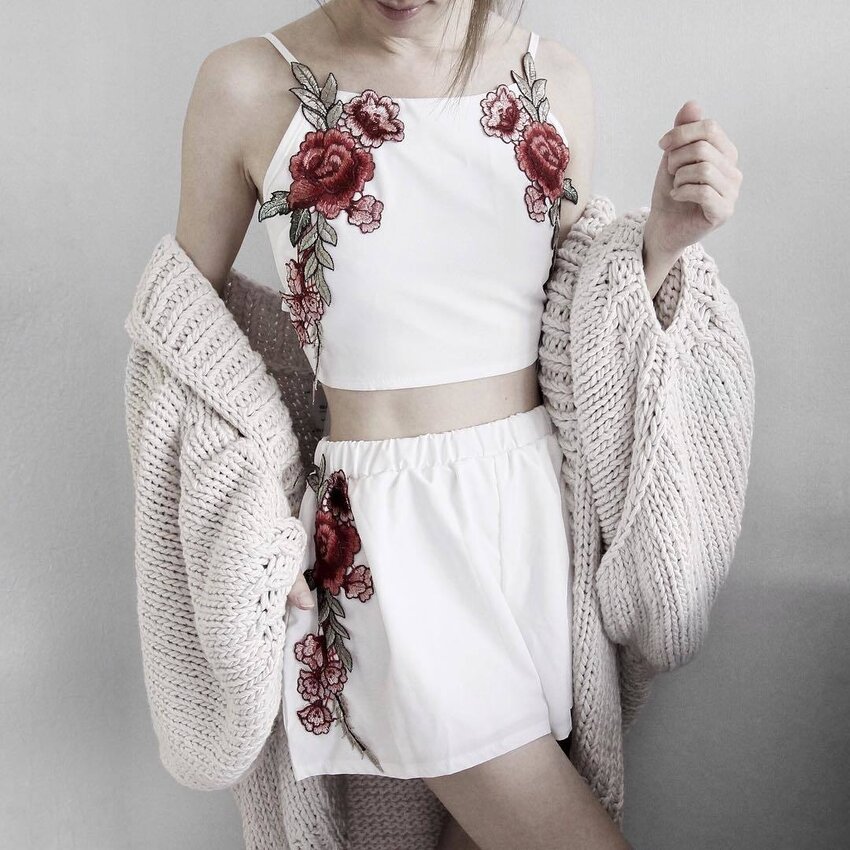 Credit @JessicaVal
Shop the Embroidered Bowknot Top With Shorts.
ONLY $15.99
Credit @zairagomez_beauty
Rose Dress
Dresses are our must-have in wardrobe. Rose dresses can not be left. Rose x velvet brings you back to 90s. Such retro combination super fits for any night out date time.
Credit @normaconedera
Shop the Embroidered Velvet Cami Vintage Dress.
Credit @olabrzeska
Pair a stylish PU jacket, the whole outfit converts to chic and cool.
Rose Swimwear
How can we miss swimwear especially in Zaful? When I saw these photos, all I think is: words fail me. Is there any word to describe how beautiful these ladies are with our loved rose swimsuits?
Credit @jessica_wallace
Rose embroidery one-piece is the one that you should try as well.
Credit @elfnullvier
Shop the Stereo Flower See Thru Swimwear.
On SALE: $16.03
Credit @greta_sophie
We are proud to say we are rose addiction!